CONFERENCE REGISTRATION *FEES*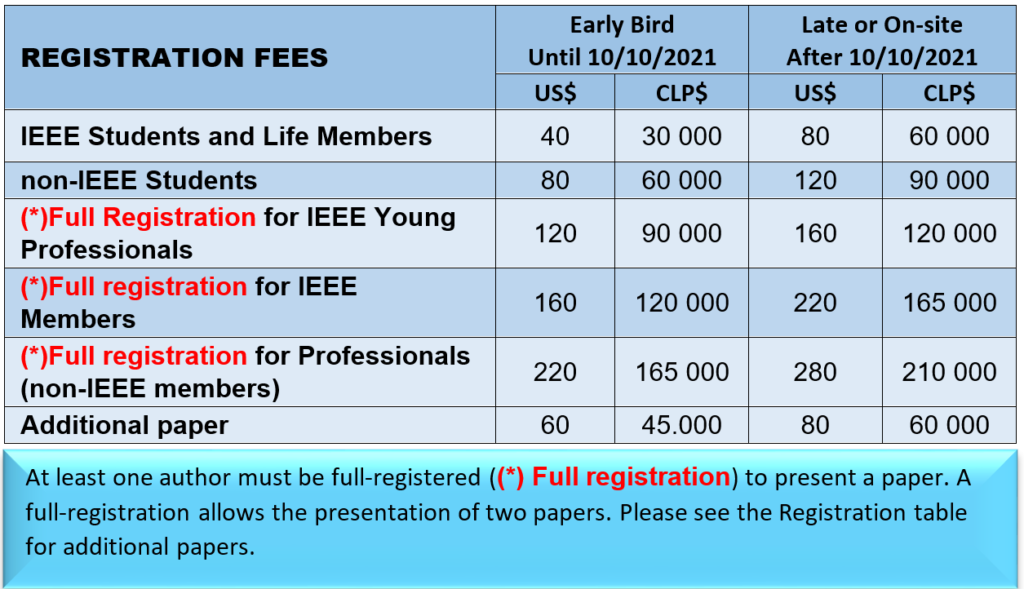 IMPORTANT: If you need an invoice, please contact Mr. Oscar Sanchez ([email protected]). Mr Sanchez will send you the form with the information required to generate the document.
REGISTRATION *REGULAR PROCEDURE* (CREDIT CARDS)
1- Enter the following link
Follow this link for Registration in the LA-CCI 2021
( https://www.webpay.cl/portalpagodirecto/pages/institucion.jsf?idEstablecimiento=82458 )
2- Select "Pagos Inscripción Congreso"
3- Fill out the form
(*) In the case of participants from abroad, complete the Rut field with 1-9. IMPORTANT: In the Monto field, the value must be in Chilean pesos. Please look the corresponding value the Registration fees Table
You should be Registered by then – any problems please contact the Organization at => [email protected] with the Subject: Registration
PS: In case you have a problem, our bank suggests to review the payment authorizations from your bank accounts. It is possible that your payments abroad are disabled. Please contact us if the problems persist.
REGISTRATION *ALTERNATIVE PROCEDURE* (BANK TRANSFER)
SWIFT CODE BANCO
SANTANDER SANTIAGO
BSCHCLRM
ROUTING BANK
BSGOCLRM
| | |
| --- | --- |
| Bank: | Cuenta Corriente Banco Santander |
| Account owner: | Universidad de La Frontera |
| Account number: | 5070-350667-3 |
| Bank Address: | Arturo Prat 724. Temuco. Chile |
Please, consider that the transfer has a cost of US $ 16.6 that must be added to the registration fee, that is, you have to add $ 14 000 Chilean pesos.