Temuco. Araucanía Region. Chile.
La Araucanía is one of the 16 Chilean administrative Regions. Its capital and largest city is Temuco and other important cities include Angol, Villarrica and Pucón.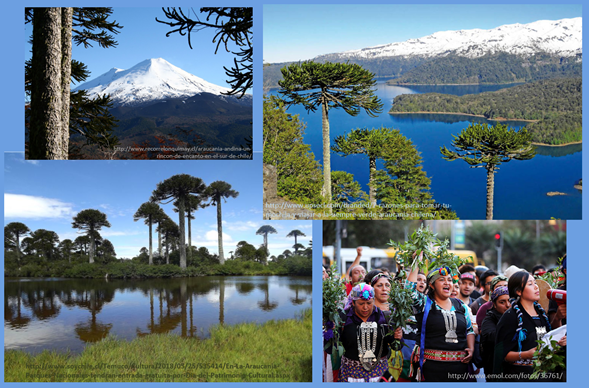 The Araucanía Region was incorporated late into Chile due to a great resistance that confronted the original Mapuche people first to the Spanish and then to the Chilean people. This opened up the area for Chilean and European immigration and settlement. La Araucanía became one of the principal agricultural districts of Chile. In the 21st century, La Araucanía is Chile's poorest region in terms of GDP per capita and about a third of the region's population is ethnic Mapuche, the highest proportion of any Chilean region. The climate of this region allows exuberant vegetation where there are still millenary araucarias that cover the forests with their majestic and dominant form. There are numerous forest parks, lakes and rivers that make this region both, ethnic and adventure great tourist attraction. The Region is surrounded by four active volcanoes, two of which are the most actives volcanoes in south America.
Temuco is the capital of the Araucanía Region. The city is located 670 kilometers (416 miles) south of Santiago. Temuco was founded in 1881 during the occupation of Araucanía and grew quickly into one of Chile's main cities. Temuco's central place in Araucanía with easy access to the Andean valleys, lakes and coastal areas makes it a hub for tourism, agricultural, livestock and forestry operations as well as a communication and trade center for the numerous small towns of Araucanía. Temuco has recently been regarded as a university city as it houses two main universities: La Frontera University and Temuco Catholic University. Both Nobel prize laureates Gabriela Mistral and Pablo Neruda lived in Temuco.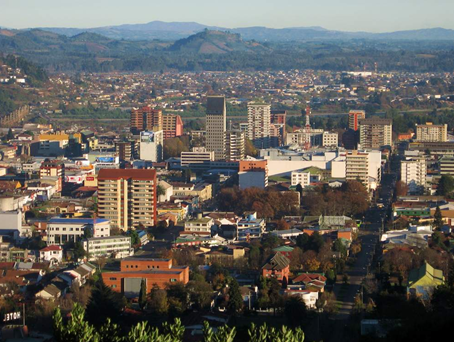 Temuco offers several facilities for the development of the conference, such as a variety of hotels, convention center, and different meeting locations in the Universidad de La Frontera that could easily satisfy the LA-CCI requirements. The hotels, convention center or universities have good communications infrastructure that would support the technical requirements expected in a conference such as LA-CCI.
Turistic Attractions
One of the main touristic attraction is Pucón, located at 100 km to the southeast of Temuco and 780 km to the south from Santiago. It is on the eastern shore of Lake Villarrica, and Villarrica volcano is located roughly 17 km to the south. Pucón's location by a lake and volcano, along with its relatively stable climate, especially in summer make it a popular destination for tourists. It offers a variety of sports and adventure/recreational activities for tourists, including water skiing, snow skiing, backpacking, white water rafting and kayaking, horseback riding, natural hot springs, zip line rides, skydiving and guided ascents of Villarrica volcano.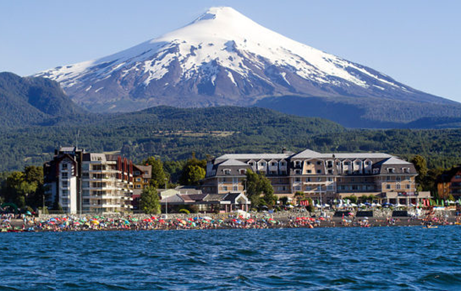 Other important turistic attractions of the Region are the natural reserves, such as the national parks of Huerquehue and Conguillío that preserve the ecosystems of many lakes, rivers and the thousand-year-old araucarias forests. The ethno-turism is also an interesting alternative to meet Mapuche people, their food and other fascinating cultural habits.